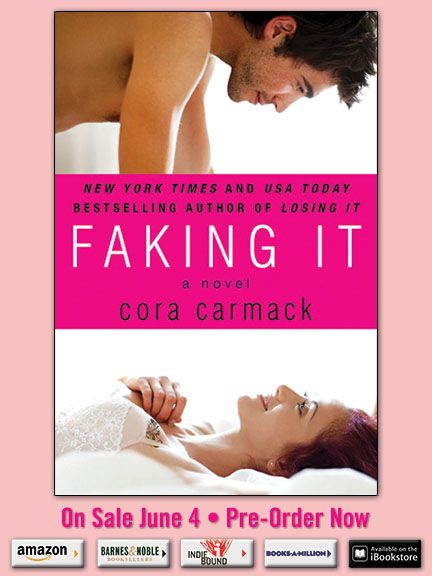 Faking It

¿Que les parece?
Mackenzie "Max" Miller has a problem. Her parents have arrived in town for a surprise visit, and if they see her dyed hair, tattoos, and piercings, they just might disown her. Even worse, they're expecting to meet a nice, wholesome boyfriend, not a guy named Mace who has a neck tattoo and plays in a band. All her lies are about to come crashing down around her, but then she meets Cade.
Cade moved to Philadelphia to act and to leave his problems behind in Texas. So far though, he's kept the problems and had very little opportunity to take the stage. When Max approaches him in a coffee shop with a crazy request to pretend to be her boyfriend, he agrees to play the part. But when Cade plays the role a little too well, they're forced to keep the ruse going. And the more they fake the relationship, the more real it begins to feel.
06 de Abril 2013
Si quieren leer la sinopsis en español sigan leyendo el post :')
Mackenzie "Max" Miller tenia un problema. Sus padres han llegado a la ciudad para una visita sorpresa,y si ellos ven su cabello teñido, tatuajes, y piercings, ellos apenas la reconoceran. Aun peor, ellos estan esperando conocer al agradable y saludable novio, no a un chico llamado Mace quien tiene un tatuaje en el cuello y toca en una banda. Todas sus mentiras estan apunto de derrumbarse alrededor de ella, pero luego ella conoce a Cade.
Cade se muda a Philadelphia para actuar y dejar sus problemas atrás, en Texas. Hasta ahora, sin embargo, el sigue manteniendo sus problemas y ha tenido muy pocas oportunidades de subirse a un escenario . Cuando Max
se le acerca en una cafetería con una loca solicitud de pretender ser su novio
, el esta de acuerdo en hacer el papel. Pero cuando Cade
desempeña el papel demasiado bien
, ellos se veran forzados a mantener el engaño.
Y cuanto más falsa se vuelve la relación, más real se comienza a sentir.